Description
Safety & Well-Being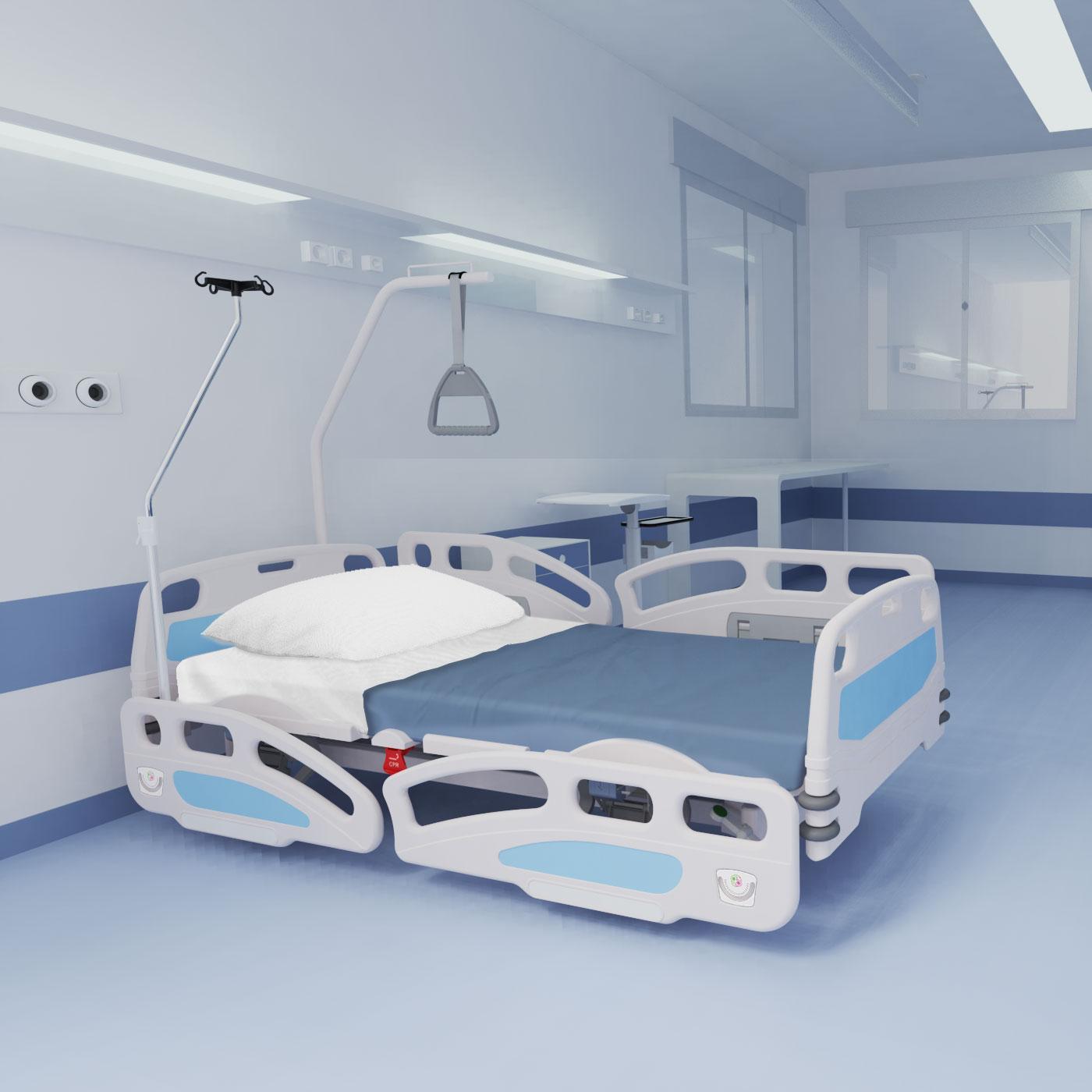 In case of a patient's accidental fall, the low height of the bedspring platform is crucial to limit possible damages. In addition, the low height of the bedspring platform and its adjustment allow for easy entry and exit from the bed, even for patients with reduced mobility.
Safety & Well-Being
The ergonomic bedspring platform is partitioned into 4 sections protected by easily removable and washable covers in thermoformed engineering plastics.
Reinforced frame in S235JR stainless steel stabilised through pre-treatment and thermosetting epoxy paint (colour of your choice).
Thermoformed ABS cover to protect the base.
Motorised Backrest Section 0-60°.
Motorised femoral section 0-30°.
Gas spring servo-assisted leg section synchronised with the movement of the femoral section -15°.
Electric height adjustment through pantograph elevation system. Bedspring platform range from 37 cm to 79 cm (42 cm extension).
Motorised Trendelenburg and Reverse Trendelenburg through pantograph elevation system.
Synchronous backrest displacement of 17,5 cm to limit abdominal compression.
Fowler's position with backrest rotation for limiting abdominal compression – Part number AC62.
Quick backrest release to facilitate CPR manoeuvre – Part number AC8L.
Low-voltage anti-crushing electric motors with spline system.
Easily removable ABS shoulders with head and foot side safety lock – Part number AC65/5.
Ready for compass side rails.
150 mm diameter non-marking swivel castors. The device can be fitted with wheels of various types and diameters (see the attachment data sheet).
Floor clearance for hoist entry; the height from the base to the floor is 15 cm
Centralised braking system with directional mode. Operated through a three-sided bar easily accessible to the operator – Part number AC7L2/G.
8 perimeter bumpers integrated in the shoulders.
Pouch hooks – Part number AC3L.
Emergency battery – Part number AC17L.
10-key push-button panel. All movements of the Gardhenia bed are controlled via a perimeter push-button panel fitted with a 3.5 m coiled cable. For patient safety, the push-button panel is fitted with a key to disable the controls – Part number AC34L. The push-button panel is easy to use as it is designed with large relief pictograms making it also suitable for visually impaired patients. Insulation IP66. It is possible to integrate other control systems (see the attachments data sheet).
Cable reel – Part number AC50L.
Equipotential node.
Colour customisation – Frame and shoulder inserts – see the colour chart available by scanning the QR code on page 8. If no preference is given, the frame will be supplied in RAL 1013 colour with "Light Blue" sideboard inserts.
Latex and phthalate-free.